PHILIPPE BERGERON
Actor/Writer
Philippe Bergeron wears many hats in Adventures in Animation 3D. In addition to co-writing the film, Philippe plays the role of "Shorty," and is the voice of "Ref." He has had an eclectic career. He co-directed/animated three of the most influential computer-animated shorts. With Pierre Lachapelle, he co-directed Tony de Peltrie, winner of 20 international awards and hailed by Time as a breakthrough.
Later, Philippe got tired of computer screens and became an actor. He's been in over a dozen films, including Family Man, Godzilla and Contact. He's guest-starred or co-starred in over 30 TV shows, including Alias, E.R., The Shield, Northern Exposure and Murphy Brown. He's worked with Jodie Foster, Nicolas Cage, Matthew Broderick, Amanda Peet, Jennifer Garner, Téa Leoni, Jamie Foxx, Ellen DeGeneres and Brooke Shields, among others. Philippe is also an accomplished voice-over artist. Recently, he did the most stressful VO of his life. He translated The 75th Annual Academy Awards live for France. And he's also a proficient geek, holding a B.Sc. and M.Sc. in Computer Science. He's published over a dozen papers on computer graphics.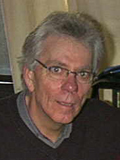 JEAN ROBITAILLE
Composer "The Boxing Match" & Music Supervisor
Jean Robitaille has contributed his talents as a soundtrack composer and sound supervisor to numerous major productions. These include Nouvelle France, starring Gérard Dépardieu, Vincent Perez and Tim Roth, and the film No Good Deed, starring Samuel L. Jackson and Milla Jovovich. He was musical director and also composed part of the score for Head in the Clouds, starring Penelope Cruz and Charlize Theron. He is president of Image Sonore Inc., a Quebec-based firm specializing in music. He's won many awards, including Cannes Lions d'Or and USA TV Awards. He composed the song for the closing ceremonies at the Montreal Olympics in 1976 and has also written the themes for two of Canada's great sports teams: the Montreal Canadiens and the Quebec Nordiques.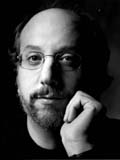 STEVE BRAMSON
Composer, "Phil & Maria"/"Slim's Tutorials"
Emmy-Award winner Steve Bramson has been active in film and television scoring for more than a decade. His credits range from George Lucas' Young Indiana Jones Chronicles to more than 150 individual scores for the hit CBS series JAG — one of only a few current shows to regularly feature an orchestral score. Bramson's scores include the Miramax release The Crude Oasis, Casualties and, most recently, In Enemy Hands, starring William H. Macy.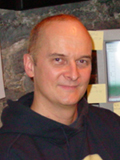 STEPHEN MENZIES
"The Boxer" Project Manager
As project manager, post-production manager and senior animator, Stephen Menzies led the TFX production teams through the challenge of creating the world's most advanced computer-animated characters, then the award-winning short film that was precursor to Adventures in Animation 3D and, most recently, the studio's showcase 3D giant-screen film Adventures In Animation 3D.
A graduate of the Ontario College of Art & Design in Toronto, he worked as a freelance prepator installing hundreds of major contemporary works of art of every description in private collections, private galleries and national museums. His reputation in the art world for managing complex installations brought him to serve as the project manager on numerous architectural and construction projects including Montreal's Studio La Majeure and architect Peter Lanken's Goodwin Building residence.
GREGORY ROY
"Phil & Maria" Project Manager
While studying illustration and design at Dawson College, Gregory Roy was self-employed. As an illustrator he designed logos and layouts for sportswear.
The search for the moving image was pursued at Concordia University, where Greg enrolled in the classical animation program. Through his studies he freelanced for Fourmi Rouge Animation, and worked on many TV ads. He also designed and animated the opening logo for Blackwatch Communications with an original 16mm / 35mm Oxberry camera.
Greg's passion for animation developed during his first 3D computer animation class. Recruited by his teacher Stephen Menzies, who was working on Adventures in Animation 3D, Greg joined the team as a junior 3D animator. Later, he became animation supervisor and project manager for the "Phil & Maria" project.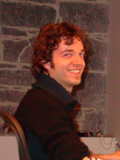 ALEXANDRE MÉNARD
"Slim's Tutorials" Project Manager
Alexandre Ménard started his career as a freelance 2D animator at the age of 19. He worked on various projects, mainly in publicity and educational CD-ROM.
One of his more visible projects was a Loto-Bingo commercial for the Montreal-based studio "Les Productions Pascal Blais". After 3 years in the 2D industry, Alexandre moved to the emerging 3D animation industry. He started as a 3D animator at TFX animation to finish the award-winning short film that was precursor to Adventures in Animation 3D, then moved to managing and supervising all aspects of the "Slim's Tutorials" section in Adventures in Animation 3D.

ERIC LABRANCHE
Lighting Supervisor
From an ambitious young filmmaker to an accomplished Senior Lighting artist for the giant screen film Adventures in Animation 3D, Eric Labranche has consistently outdone himself in his pursuit to deliver a "picture perfect" finish to all his cinematic endeavors.
As a film student, Eric directed over 20 successful short films, which garnered him a collection of awards including "The Creative Arts film prize," as well as the prestigious, "Merit for film for outstanding film productions." He earned his Bachelor of Fine Arts with a Major in Cinema and a concentration in stop motion animation. His works were selected for numerous acclaimed Film Festivals including "The International Film Festival of Short Films of Montreal." Eric joined the TFX Animation team in 1998 and is the head of the lighting department.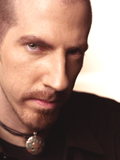 JOHN TATE
Production Designer
Beginning his career as an illustrator and designer, John became involved with the then-emerging computer animation field in 1986. In the years since, he has worked extensively with animators and programmers and successfully cultivated a brilliant career as a freelance art director, industrial designer, illustrator, photographer, writer and graphics artist.
Strengthened by his broad range of experience, John has quickly become one of the leading designer/animators for broadcast media in Montreal. His talents also serve him well as a production designer, effects director and matte painter.